Posted by The NE Trading Co on 21st Jan 2021
2021 Doormat Buying Guide
Shopping for the best outside doormats? If you're wondering whether to buy inexpensive welcome mats to replace each year, or make an investment, we can help you decide. Read on to find out how to buy a doormat you'll love.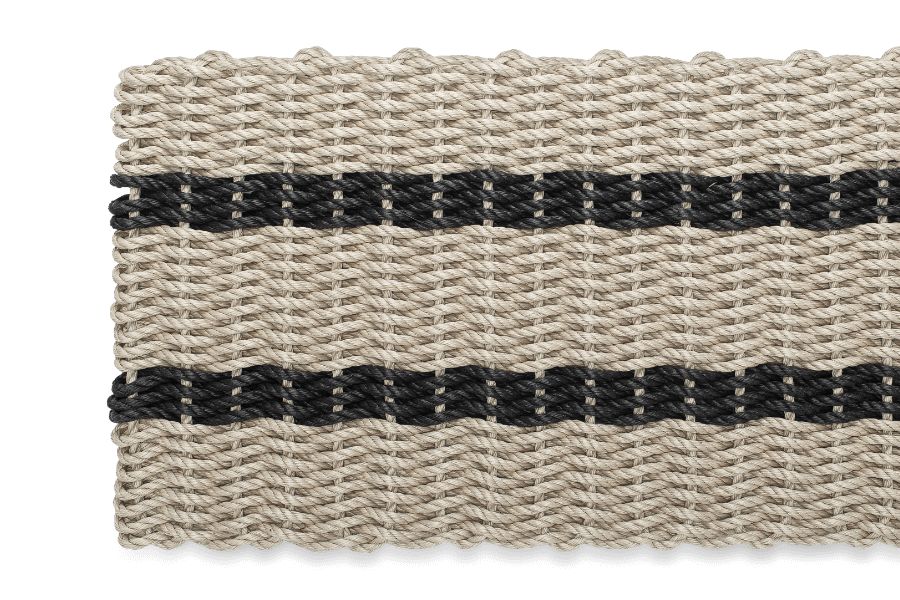 Top Questions about Buying a Doormat
What are standard doormat sizes?

What is the best material for an outdoor door mat?

How do I clean my outside doormat?

Should a doormat go inside or outside?

What are the best doormats for removing dirt?
One of the most common purchased size for a outside doormat is 18" x 30", which will work for single doors. For larger front doors with sidelights, we recommend increasing the size up to 21" x 33/34" or even going up to 24" x 36".
Your best best is to grab a piece of chalk and tape measure and draw out each size in front of your door, stand back, and assess. Remember to account for planters, chairs, etc.
QUICK TIP:
Single door/back doors: 18" x 30" is standard doormat size.
Door with sidelights: 24" x 36"
It is extremely important you choose a durable, weatherproof material for an outdoor mat. Even if there is an overhang or porch, this doormat is going to take a beating from Mother Nature. Coir and other natural fibers can make cute doormats, but they will disintegrate much more quickly than a rubber or polypropylene rope doormat. Natural fibers will retain water and rot, plus can take on an odor.
Avoid lightweight mats that can easily be disrupted by the wind.. Doormats must endure sun, salt, mud, sand & snow and still look great.
One of the easiest ways to clean your outdoor welcome mat is to grab hose and wash it down, right at the door. If this sounds appealing to you consider a woven rope doormat. The design allows sand and dirt to pass through it (just lift and sweep away) and water flows through as well. Just be sure the rope is fast-drying, like polypropylene.
If your doormat traps dirt then the best way to clean it is a good car vacuum or an old-fashioned whacking against the wall or with a broom.
Your heaviest traffic door, typically the front, should have both an indoor and outdoor doormat. The job of an outdoor doormat is to scrub off dirt, mud and debris before someone enters the home. The job of an indoor doormat is two-fold: first, to collect shoes for homes that request that shoes not be worn inside. Second, if shoes are allowed indoors the doormat must be absorbent so that moisture will not be tracked inside.
With a patio or side door you can often get away with just one doormat, indoor or outdoor, based on your preference.
Doormats that have a raised weave or feature heavy duty bristles are the best for removing dirt and mud. You will want a mat that can handle heavy scraping. Avoid natural fibers for this job, like coir, as they will break down more quickly with heavy use and moisture exposure. Lobster Rope Doormats are designed with a raised weave that captures mud and dirt, passing it through the doormat. The polypropylene rope will not break down with exposure to water.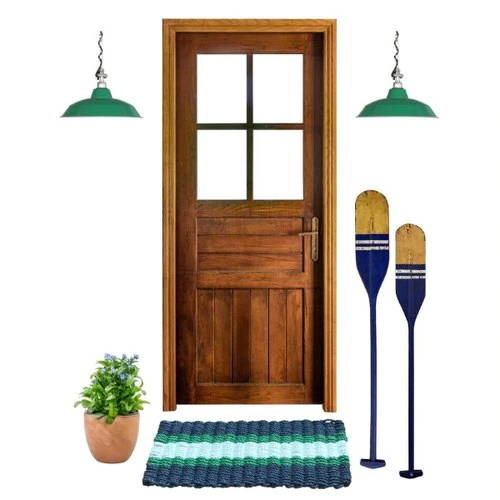 ENTER TO WIN A LOBSTER ROPE DOORMAT
Handwoven from new commercial lobster lines

Water, salt, & sand just flow through them

Mildew & odor resistant

Lasts for years

Winner chooses their favorite color & size
---
Top 5 Reasons You Need a Hard-Working Welcome Mat
1. Mud, dirt, water. Basically, bad weather. A good doormat will take off that first layer of dirt, grime and... yuck that you don't want in your home. It's the first level of protection.
2. Reduce carpet & floor maintenance. Excess dust and dirt brought into your home can settle right into carpet fibers causing wear and tear, permanent staining, and sometimes irreparable damage from debis (I'm looking at you, shiny wood floor). Outdoor mats can help reduce the amount of carpet and tile cleaning you need to undertake.
3. Indoor air quality. Who knows where those shoes have been? A good wiping off on a solid doormat will help reduce the contaminents that make it into your home and air flow.
4. Vanity. No one thinks a soggy, tired doormat looks good. Many inexpensive doormats wear out fast against Mother Nature's harsh elements. The best doormat will make your doorstep cheery and welcoming... and put up with lots and lots of bad weather and traffic.
5. Odor, mold, bacteria. The wrong type of outside doormat can really stink... literally. Keep your home fresh with a doormat that resists water.
The trick to finding the best doormat for you is to balance style, function, and durability.
Looking for the Best Outdoor Mat?
If you're tired of replacing soggy, rundown doormats, consider polypropylene nautical rope mats. Not just for coastal decor, these rope front door mats come in a variety of colors, including earth tones and grays. What makes them so popular?
The rope is naturally water-resistant so you never have to worry about mildew, mold and odors. Nautical polypropylene rope is designed to tether buoys to lobster traps in the ocean, the rope is super tough and durable
They are handwoven so the quality is outstanding
They won't rot like natural rope doormats - in fact, they last for years.
Heavy weight rope weights 6-10 lbs per doormat so they will not blow away.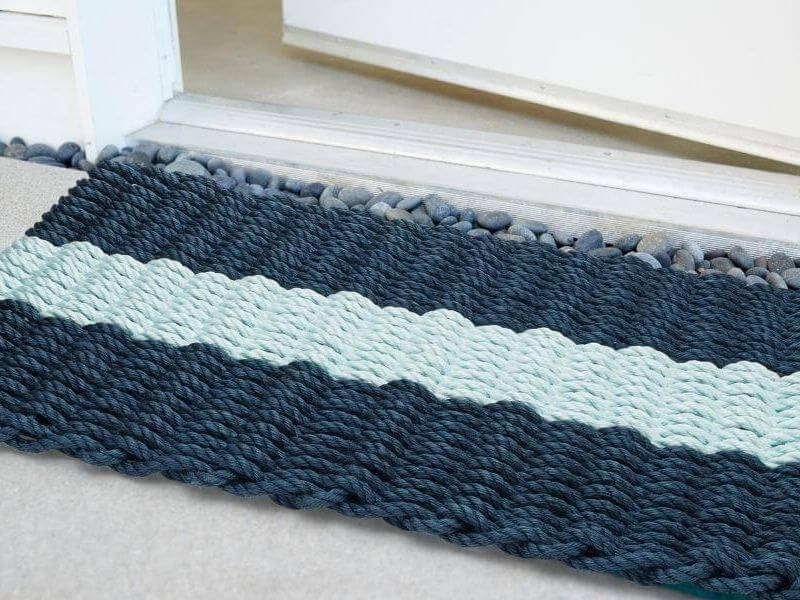 Top Advantages & Disadvantages of Doormat Materials
Outdoor doormats must be made of heavy, weatherproof material. Avoid lightweight mats that can easily be disrupted by the wind. Do not select mats made wtih natural fibers which will retain water and rot. Doormats must endure sun, salt, mud, sand & snow and still look great.
Good Old Rubber:
Maybe not the prettiest of mats, but good old rubber tends to top the list of popular doormat materials. Rubber is one of mankind's greatest inventions - it's tough, durable, waterproof and flexible. The only drawback is that rubber is only suitable for moderate temperatures; outdoor rubber mats tend to harden and crack over time when exposed to frigid air.
Best for: modern/industrial looks
Synthetic Rope Doormats:
Rope doormats come in a variety of styles, weaves, and durability. Some rope doormats are made with soft synthetic fibers, such as polyolefin rope. These mats are soft to the touch, lightweight, and flexible. While these mats work well they tend to move around easily when wiping your feet, which is sometimes frustrating. If your 18 x 30 rope doormat weighs less than 5 lbs it is going to feel very insubstantial to you. Others are made from heavy-weight polypropylene, which is less flexible but much more durable and substantial. Plus, it is mold and mildew-resistant.
Best for: high traffic and exposed areas/desire a doormat to last years
Fabric or Carpet Doormats:
Best for indoor use, synthetic or natural fabrics doormats include cotton, wool, nylon, acrylic, cotton blend and polyester. Fabric doormats can be braided, tufted or woven and reflect a myriad of colors and patterns. They're generally easy to clean - just throw them in the washer if they are small enough, shake them free or dirt outside or vacuum them - and are versatile decor enhancers.
Best for: Indoors only
Coir or Natural Fiber:
A wide variety of decorative coir doormats are available suitable for all sorts of design styles, so they are incredibly versatile. The disadvantages of coir and other natural fiber doormats as an outdoor mat is that they break down more easily and shed. Water is not a friend and they stay soggy after a good rain and are at risk of fot.
Best for: versatility in design and for those who like to change our their doormat look often.
Metal Doormats:
Cast iron metal doormats are typically more decorative than functional and come in a variety of elegant designs and silhouettes that match the distinct style of your home. A cast iron door mat will last for years and has rubber feet to prevent the doormat from slipping out of place or standing in pooled water.
Best for: elegant decor & when you are looking for something unique
Indoor/Outdoor Mats:
These mats are versatile, if not just a bit bland. They are not as weatherproof as you might think, but because they are inexpensive you can change them out often.
Best for: industrial/workplace/minimal looks & if you don' mind replacing your mat every season.
What is Lobster Rope?
Lobster Rope is heavy-gauge polypropylene fishing rope that is designed to tether lobster traps in the ocean. In order to stand up to the harsh sea elements - sun, salt, water, storms - the nautical rope is manufactured to be super durable and resistant to water, mildew, and mold. Because of these characteristics, it makes an excellent choice for products useds outdoors, year-round.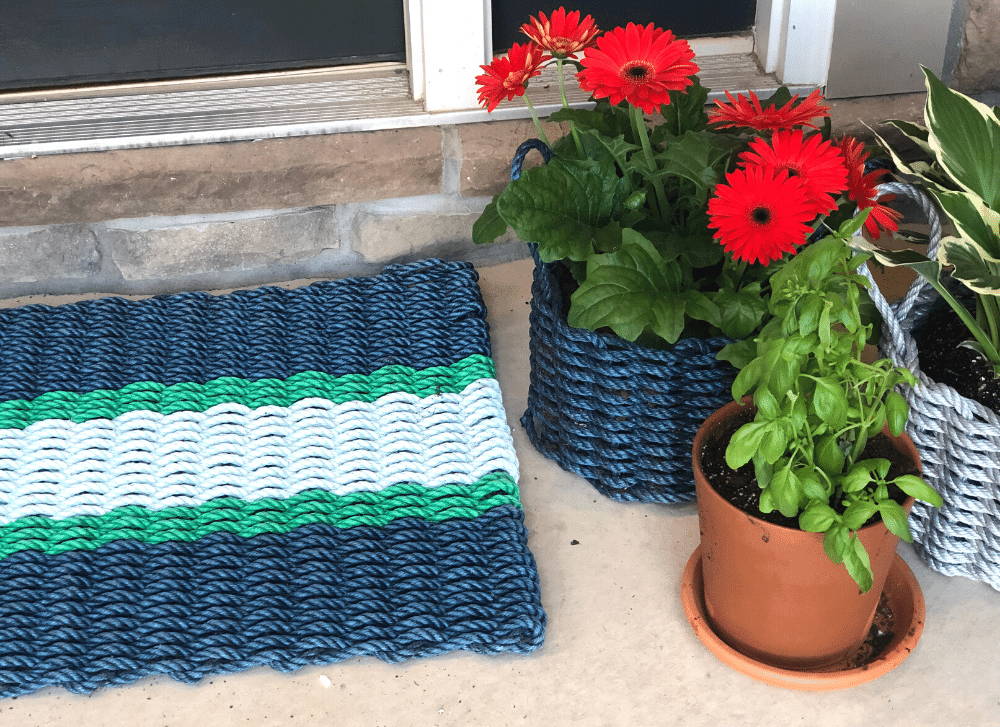 ---
SHOWSTOPPER DOORMATS
Fun Outdoor Mats To Put More Pep In Your (Door) Step
The Takeaway: 4 Essential Tips to Remember
When shopping for your next outdoor doormat just remember MATS:
M: Material must be weatherproof & water-resistant. (you will truly thank yourself later)
A: Average doormat size for single door 18 x 30/ 24 x 36 for door with sidelights.
T: Time; save yours by choosing a doormat that can be used year-round.
S: Sun: choosing a doormat with added UV protection will help slow the fading process in high-sunlit areas.
Happy Shopping!
Top Selling Lobster Rope Doormats